Name one superhero movie that was not based on comic books. Can you name one? Bet you can't. These days, and over the next five days, at least, around 60 adaptations of comic books are making it to the big screen, which means that there's going to be at least one superhero movie every month for the next half decade or so. There's a lot of them, like Teenage Mutant Ninja Turtles 2: Out of the Shadows next month to Green Lantern Corps or X-Force—if it ever gets made.
There's going to be a lot of superhero movies to see, and you comic book fans are getting more and more excited. However, there are cool superhero movies in the past with no comic book origins.
The Incredibles, 2004
Written and directed by Brad Bird, the film follows a family of superheroes who are forced to hide their superpowers and live a quiet life in the suburbs. However, Mr. Incredible's desire to help people drew their attention to the family as they face a killer robot villain head-on.
The second installment is finally on the horizon—2019, but who's counting, and people are already speculating that Jack Jack or Dash will be the villain of the story. The original film was fun and pretty hard to live up to. A family of superheroes is pretty hard to live up to, but the film's producer, Lindsey Collins, said that the film is going to be really awesome.
Chronicle, 2012
This one is more fun and in an unexpected genre too. The directorial debut by Max Landis is a found footage superhero thriller (from various recording devices) that follows three high school seniors who bond after gaining telekinetic powers despite their very different school status.
Initially using their powers for mischief and personal gain, things get dark when Andrew (Dane DeHaan) started going insane.
This film is for every nerd who has ever been bullied in high school, and for every kid who spent every waking summer hour outside playing with his friends. No matter who you were in school, you would love this movie—especially if you love adventures.
The film's sequel has been in limbo for years, and it does need one, considering that fans are still thinking whether or not Dane DeHaan's character really did die—or didn't he?
Darkman, 1990
Unlike most movies these days that come from comic books, this one did the opposite—thanks to the movie, it now has a comic book. The 1990 film is co-written and directed by Sam Raimi, who is known for Spider-Man—the Tobey MaGuire era—but was also known for the horror genre: the cult horror Evil Dead, for instance.
Darkman is an Homage to the horror films of the 1930s starring Liam Neeson, a scientist who was attacked and left for dead by a ruthless mobster. After realizing that he was badly burnt, he re-establishes himself in a lab in a condemned building, using digitization to create a mask of his face. There is something genius and unsettling about a guy who would wear the face of his enemies to infiltrate them.
Sky High, 2005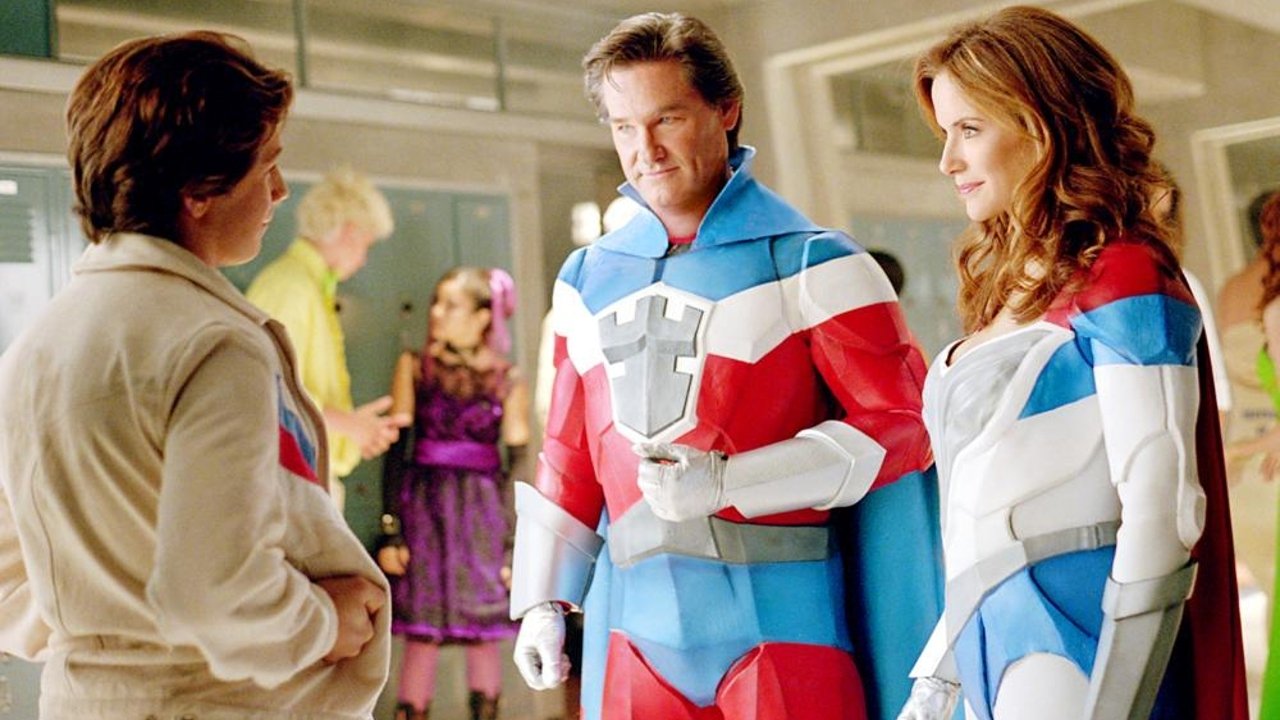 Before  actress Danielle Panabaker starred as Caitlin Snow/Killer Frost in the hit CW series The Flash, she starred as Layla the Plant Girl on Sky High, which is a movie about a high school of superheroes.
The comedy film about a school for teenage heroes centers around Will (Michael Angarano), who is especially stressed, considering that the world's most famous superheroes, The Commander and Jetstream, are his parents. As a student, he had to find the balance between being a superhero and an extraordinary being, which is the balance teenagers ultimately want—whether or not they have superpowers.
Unbreakable, 2000
This film revolves around the story of a security guard who discovers that he possesses superhuman powers. The director, M. Night Shyamalan, organized the narrative specifically for a three-part story structure.
Like Sky High, but on a quieter note, it is about a group of heroes that are discovering themselves and what they can do, which, in all superhero movie moments, is always a good thing. Starring Bruce Willis, Samuel L. Jackson, and Robin Wright, this film has everything it needs to get great ratings. Bonus point: the bad guy is a comic book dealer.
The Toxic Avenger, 1984
Not to be confused with The Avengers, this revenge-of-the-nerd type film is a cult classic that involves psychotic health club customers, nerdy victims-turned-toxic-superheroes, drug dealers, prostitution, a crooked mayor, and even some very bloody kind of revenge.
The film now has three film sequels, a stage musical production, and a children's TV cartoon. Then there was news about the remake, which aimed for a family-friendly PG-13 release. However, things stalled; and as of July 2015, no further plans have surfaced. Fans can still hope, though.
Megamind, 2010
This animated superhero comedy starts with a super-villain named Megamind who takes down hi arch-nemesis, Metroman. Suddenly bored with his life, however, Megamind attempted to create a new superhero to become his rival. However, he accidentally created a stronger and more villainous super-villain, so he becomes the city's savior instead.
Oh, and if you didn't know, Megamind is a spoof of two famous comic-book heroes: Megamind is a spoof of Lex Luthor and Brainiac, and Metro Man is a spoof of Superman.
Meteor Man, 1993
A gentle school teacher named Jefferson Reed gains superpowers the day he was struck by a meteor. Before he gained said powers, however, he had been against picking fights with the local gang. Post-meteor Reed, however, had a strong desire to scare them off.
Unfortunately for him, his newly found abilities, which included superhuman strength, the ability to fly, super speed, and even X-ray vision, were not permanent and soon started diminishing.
The show was criticized for the implied message that it would take a superhero to solve inner city problems, but the film still developed its own following—and Marvel adapted it by releasing a six-issue limited series spin-off.
Which of these films have you watched before, and did you know that they were original material, not based off comic books like those in the DC and Marvel Universes?